See on Scoop.it – Mixed American Life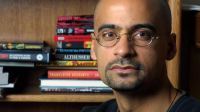 "The following is based mainly on Dr Beverly Tatum's excellent book, "Why Are All The Black Kids Sitting Together in the Cafeteria?" (1997). She talks only about Spanish-speaking Latinos who grow up in America (the U.S.):
Being Latino is not a matter of nation or race. It is a matter of culture, of belonging to a Latin American culture. After all, you can be black or white or Indian or mixed and still be Latino. You can be Mexican or Cuban or American and still be Latino.
Three stages that Latinos (and other people of colour) go through growing up in America:
1. unexamined ethnic identity – your ethnic identity is not a big deal, you barely think about it.
2. ethnic identity search – it becomes a big deal, mainly because of experiences at school. You come to terms with what it means for you to be a member of your ethnic group. This can take years.
3. achieved ethnic identity – you have a clear, positive sense of your ethnic identity."
See on abagond.wordpress.com