See on Scoop.it – Community Village Daily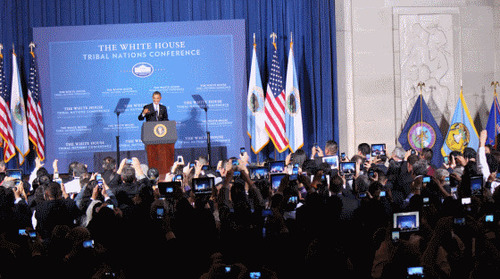 "WASHINGTON The President said the Tribal Nations Conference, which he began, is one event he looks forward to each year.
…
Today, I want to begin by remembering somebody we lost last week. To the Crow Nation, he was a revered elder. To many Native Americans, he was a respected healer. And I knew him warmly, for a few years at least, as an adoptive father.
Sonny Black Eagle adopted me into the Crow Nation during my 2008 campaign. And yesterday he would have been 79 years old. And while we can't celebrate that milestone with him today, we can celebrate his remarkable life and all that happened along the way, because Sonny's story is not just one man's journey to keep his culture alive, but one country's journey to keep perfecting itself.
So Sonny Black Eagle was born in 1933 just outside of Lodge Grass, Montana. That's where his grandparents raised him after his mother died of tuberculosis; where he tended to cattle as a child; and where as an adult, he raised a family of his own. And Sonny was brought up in the traditional Crow ways, with the same values that many of you share — a reverence for the Earth, to cherish the Earth and to cherish each other; to honor ancestors and preserve traditions.
Staying true to those values wasn't always easy. As a child, if Sonny spoke Crow in school, his teachers would strike his hand with a ruler. As a teenager, when he went to eat at local restaurants he was sometimes met with a sign on the door that said, "No Indians or dogs allowed." In the 1950s, as Sonny and his wife Mary began a new life together, the government put in place a new policy of forced assimilation — a move that harkened back to the days when Native religions and languages were banned. The policy was called "termination" for a reason — it was meant to end tribal governments in America once and for all.
So Sonny, like many of you, knew intolerance and knew injustice. He knew what it was like to be persecuted for who you are and what you believe. But as time went by, year by year, decade by decade, as Native Americans rallied together and marched together, as students descended on Alcatraz and activists held their ground at Frank's Landing, as respect and appreciation for your unique heritage grew and a seminal struggle played itself out, Sonny lived to see something else. He saw a new beginning."
– MORE –
See on www.nativenewsnetwork.com