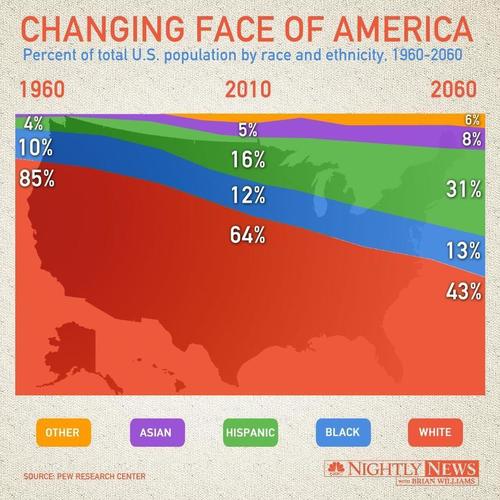 The country is slowly becoming more like a "rainbow," according to a new book by Paul Taylor and Pew Research called "The Next America".
Defining Mixed
These groups are all mixed in their heritage.
Hispanic people are mixed by definition. Hispanic is not a race and Latin American countries have not had anti-miscegenation laws like the U.S. Most Latinos are part Amerindian mixed with some part(s) Spanish / Portuguese / Black.
Black people have been mixed with others since the founding of the U.S., sometimes by choice and sometimes by force (enslavement rape). Compare the common skin tone of African-Americans to the common skin tone of Africans from Africa.
Asian people have been mixing with others since anti-miscegenation laws have been abolished in the U.S.
Other people includes Native American (1%) and Mixed people.
White people are often mixed with '5 shades of White', or they are White Latino, or they are 'One drop of color / 'passing as White', aka 1/16th of color. White is not counted as White when mixed with people of color, which accounts for the decline in White numbers over time. The other reason the numbers for White drop is because Europeans no longer immigrate to the U.S. at any where near the same rate of other groups. European countries tend to provide good health care coverage and tend to have lower gun violence. For example, in the U.K. the routine patrol officers do not carry guns.
The numbers
Intermarriage among people of different races is increasingly common. In 1980, just 7% of all marriages in the U.S. were between spouses of a different race or ethnicity.  In 2010, that share has doubled to 15% of all new marriages in the U.S. Hispanics (26%) and Asians (28%) were most likely to "marry out," compared with 9% of whites and 17% of blacks. – Pew Research
Marrying Out
If two people of mixed heritage marry, does Pew Research count that as an intermarriage?
Genocide or Population Control
Amerindians used to make up 100% of the Americas. Now the U.S. is only 1% Native American.
Black population is only expected to grow by 1% in 50 years. Mass-incarceration is removing Black people during the prime of their life, the time when most people are starting families. And police and vigilantes are killing Black people at the rate of 1 every 28 hours, and sometimes more frequently.
Asians were murdered by White people during the gold rush and also excluded from entering the U.S. between 1882 and 1965.
Latinos were lynched by White people during the gold rush.