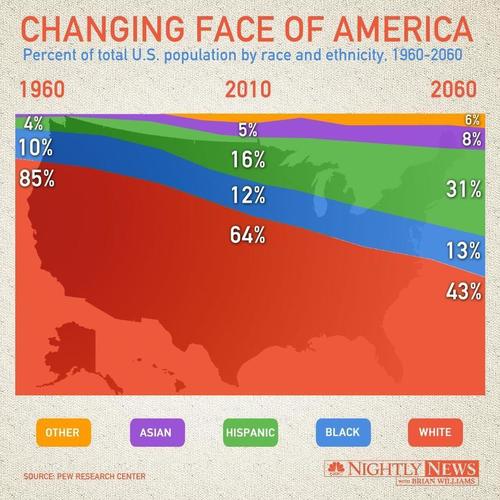 The country is slowly becoming more like a "rainbow," according to a new book by Paul Taylor and the Pew Research called "The Next America".
Defining Mixed
Four of these five groups are very mixed in their racial heritage. 
Fuzzy counting
Intermarriage among people of different races is increasingly common. In 1980, just 7% of all marriages in the U.S. were between spouses of a different race or ethnicity.  In 2010, that share has doubled to 15% of all new marriages in the U.S. Hispanics (26%) and Asians (28%) were most likely to "marry out," compared with 9% of whites and 17% of blacks. – Pew Research
Begging the Question
If two people of mixed heritage marry, does Pew Research count that as an intermarriage?
If 'marrying out' is what defines intermarriage, what defines 'marrying out'?